As a full-service real estate brokerage, Douglas Lane Real Estate Group, is staffed with REALTORS® that are dedicated to providing personal and prompt attention to every client. You will find a broad menu of options, very competitive rates, and customer service that is second to none.
NEGOTIATING GUIDANCE
The proper handling of negotiations can substantially affect your home purchase. Your Douglas Lane Real Estate Group agent is focused on achieving your real estate goals and ensuring a fluid process along the way. Price is certainly important, but there are dozens of other terms upon which you and the seller will need to agree.
We recommend all of our clients to contact their Douglas Lane agent with any and all questions they may have. You should always be informed and we hold a commitment to an open line of communication between all our agents and clients.
FROM CONTACT TO CLOSING
Having your offer accepted is just the beginning of what we offer as your full-service real estate firm.
Your Douglas Lane agent helps put your mind at ease and bring order to a Prices that frequently overwhelms even the most organized. The process of purchasing a home can be complex and emotional.
Your Douglas Lane agent helps you:
Distribute documents to all relevant parties, including attorneys, insurance, and financial professionals.
Account for all due diligence and earnest monies between parties.
Coordinate due diligence for home, pest, water, radon, and other inspections you request.
Facilitate needed bids and repairs from service providers.
Communicate with your lender to ensure a valid appraisal is prepared.
Interact with the appraiser to ensure a valid appraisal is prepared.
Schedule necessary walkthrough(s).
Confirm contingencies have been satisfied according to the contract.
Assist with the transfer of utilities.
Coordinate your closing and moving schedules.
UNDERSTANDING CLOSING COSTS
Understanding who pays for what during the home buying process will ensure that there are no surprises. Your Douglas Lane agent will be ready to help analyze all the cost when you find your next home!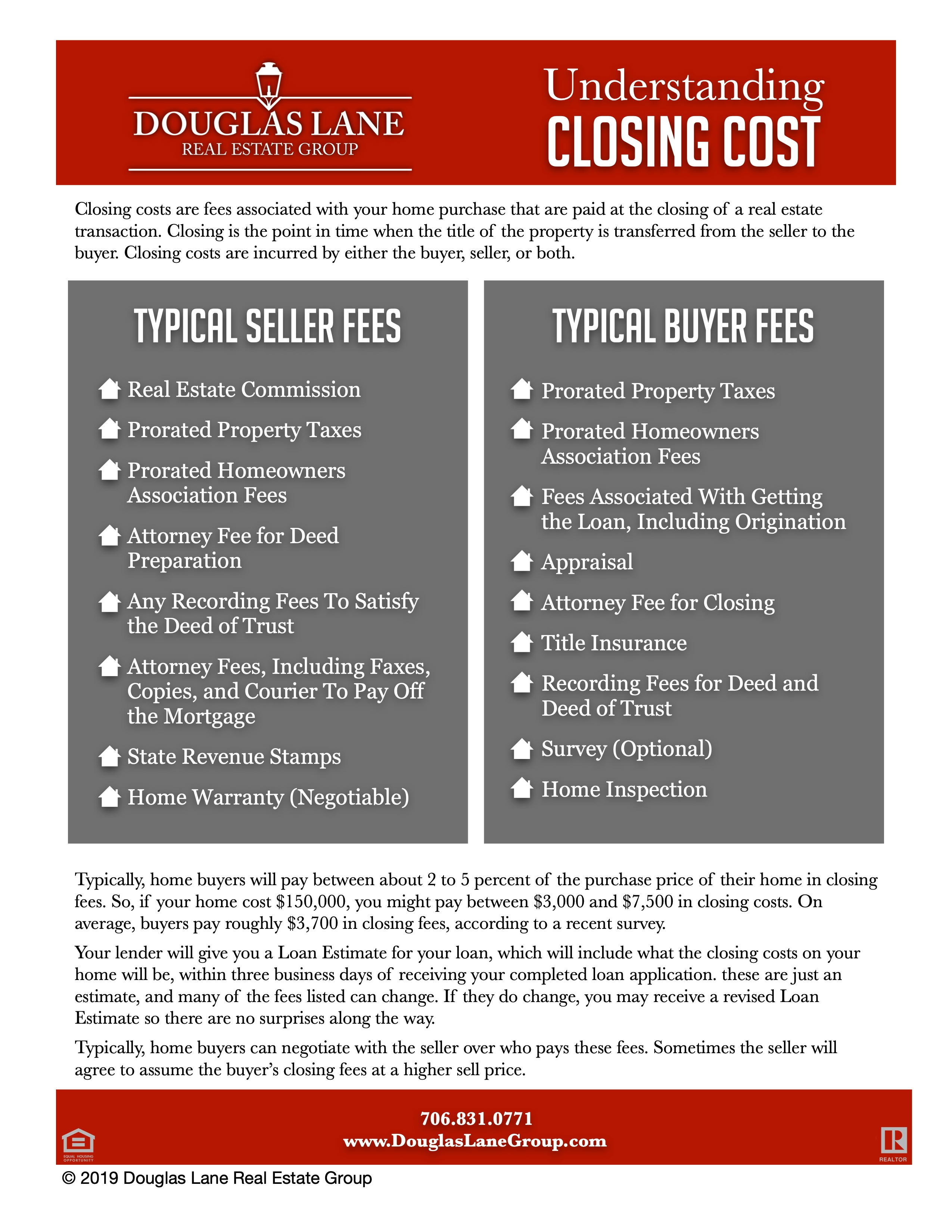 Contact the Douglas Lane Real Estate Group